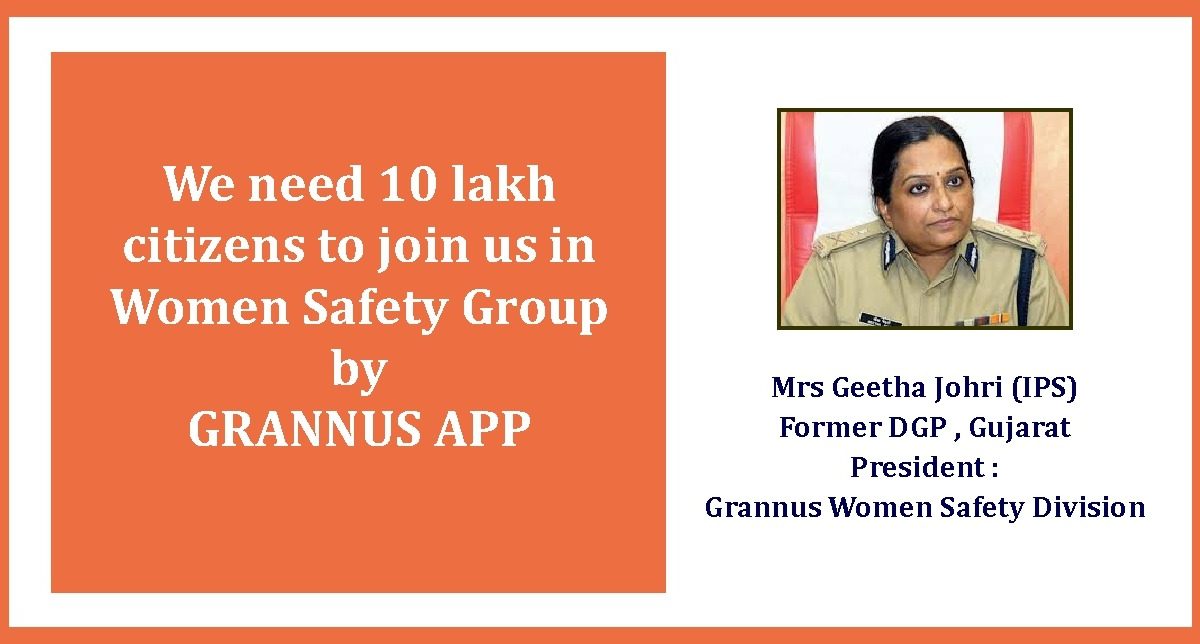 Need 10 Lakh brave people for Grannus women safety group- IPS and former DGP Mrs Geetha Johri is President of the group
Grannus organizations, a well-known and reputed social organization working on women safety under the leadership of former DGP of Gujarat and retired IPS Mrs. Geetha Johri, need your support to develop safer public places for women.
The incidences of physical abuse, eve-teasing, harassment to women etc, are increasing in our own society because of few ill minded people. Because of such pervert, woman of our safety feel unsafe and frightened in public places like bus-depo, malls etc.
If an incidence of rape or abused occurred, what we are doing!
Next day we start candle march protest! Making campaign on social media! Writing blog on Quora! and twitting on twitter!  
What our governments do?
Promise to arrest culprit soon!
Ok, let's believe the culprit will be arrested, do you think will it help to victim woman?
Please read this carefully because that victim may also be your friends, family and relatives. The victim can also be innocent girl and single child of a poor family.
Do you know, even a strong law to hang the accuser is not going to stop this, how your candle march can stop it!
All state and central Government and police departments are taking significant actions to strengthen the safety. Many of the states of India have deputed the special women safety team at every corner. However it is not only their responsibility. Being a good social person, it is also our responsibility to help the woman as well as women helpline team.
With the objective to provide a platform to society for women safety, Grannus organization has developed a technology platform using patent pending DGBSI RTPP/SRPP technology model. The technology platform is available as Grannus app on Google play store. Using this app, if any woman feels herself unsafe or distressed or frightened, she may request randomly any 5 Grannus volunteer who are just around 500 meter to her at that time.
Once a woman has sent help request, those 5 people can also see her real time movement on Grannus-Google integrated map till 12 hrs or till she mark herself safe.
The responsibility of those 5 people is, first to inform the local women safety helpline, and second, with the help of some nearby people, go to the location to help her.
Thus by doing this, till the women safety team arrives, we can prevent anything wrong to happen with that woman. If we all joined with this technology platform and develop a largest network, none of the pervert will ever try to tease a woman thinking she is alone. If we all are connected with each over Grannus-Google map, together we can build safer India.
To achieve this objective, Grannus organization requires 5 Lakh people from your city to join Grannus group of women safety. Our request to all, please join us as volunteer with Grannus group of women safety. Even in a case if you are not able to go to location; still you can help her by informing your local woman safety helpline and giving them precise location.
You can join by official app of our organization available on google play store by Grannus name. Please note after downloading the app, you are not joined as volunteer. App will ask you for your consent to join Grannus group of woman safety. If you have decided to join, then click YES. Or you may also choose "Not Now".
If you have selected YES, you may receive request from nearby women in distress. You can also change the setting to OFF at any time from your profile section and you will not receive any request.
It is better to check the functions by downloading the app from play store. If you are not sure to join women safety group, then select "Not Now" button and proceed further with this app to see how it working.  
Please note, other than women safety, our objectives are "Child safety" and "Family safety". You can check more by browsing our app or reading more articles below.
If you want to help us, please also spread the word by directly sharing this article on your Facebook wall and FB groups.
Please click here to download the mobile app
Jay Hind
Tags In